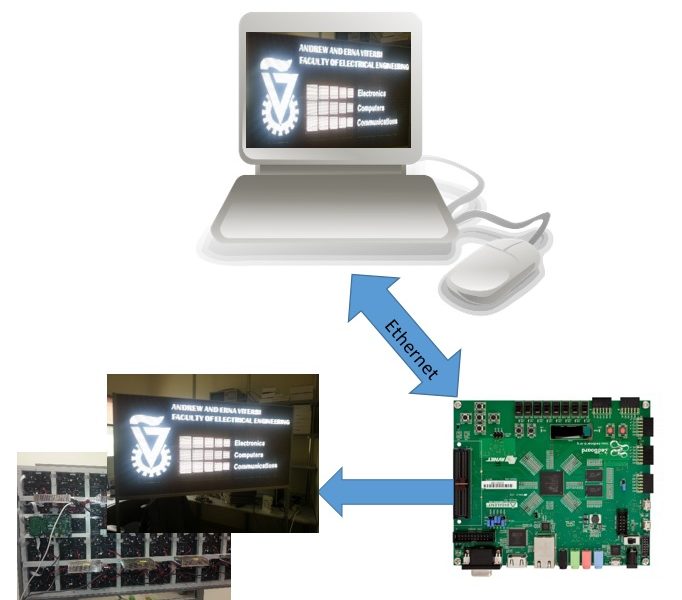 LED Displays are used to display images in bright daylight or for viewing from far away. Such a display consist of a number of matrixes of 3 color LEDs.
Those basic matrixes are arranged together to form bigger displays.
Xilinx Zynq-7000 devices is a processor-centric platform that offers software, hardware and I/O programmability in a single chip. The Zynq-7000 family is based on the All Programmable SoC architecture. Zynq-7000 products incorporate a dual core ARM Cortex-A9 based Processing System (PS) and Xilinx Programmable Logic in a single device.
ZedBoard is a board based on Zynq-7000 device and contains all the necessary interfaces and supporting functions to enable a wide range of applications.
At the HSDSL we have assembled a LED display of 256 by 128 Leds.
Furthermore, we have developed hardware and code for the Zedboard to display color images stored in the DRAM of the Zedboard. Those pictures are in RGB (6 bit per color). For purpose of display they are copied from memory to a hardware frame-buffer.
The proposed project should provide a way to store images from a PC via LAN connection directly in the hardware frame-buffer. Therefor the current concept of transferring data to the Frame-buffer need to be analyzed and is open for redesign if needed.
Lastly in the PC some conversion software needs to be written changing the input format to 256 by 128 pixel and the color coding into RGB. Here also needs to be evaluated if part of those conversions may be better done in hardware.
Duration: One Semester (Optional two)
Supervisor: Ina Rivkin (inna@ee.technion.ac.il)