In many cases opening doors manually has become an inconvenience. The main goals of this project are to design a small and affordable system which connects to home network, takes a picture of the person at the door and send it to user, and also enable remote control on door's lock.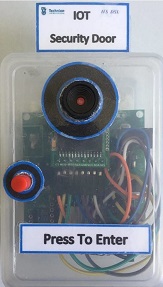 As of 2017, the IOT (Internet of Things) has enabled the design of appliances that are connected to the internet. These appliances can remotely communicate with their surroundings, people and other devices.
Many of these devices can be helpful for every-day tasks, such as opening doors.
While opening a house door seems an easy enough task, it can be a problematic, especially for the handicapped, elderly, tenants in large houses, and landlords that rent out their apartments through services like AIRBNB, which require giving the guests the apartment keys.
The goal of the "IOT Security Door" project is to design and implement a small scale, inexpensive device that connects to the user's home network, and enables them to remotely open the entrance door. The device takes a picture of the guest at the entrance and sends it to the user. The system will wait for the user's decision on whether or not to open the door.
Video's links:
https://www.youtube.com/watch?v=NurMRwOzL88
https://www.youtube.com/watch?v=IbzJnqw9VR4